NEWS
'South Park' Season Finale Had Taylor Swift Dueting With Bill Cosby
And Iggy Azalea's butt is a snowman.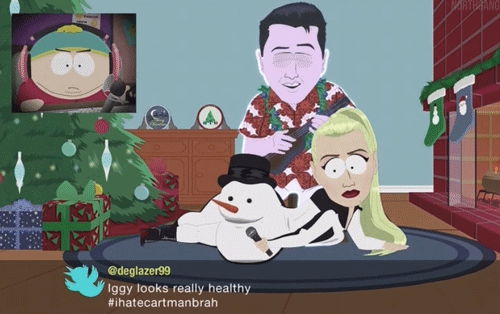 No joke was off limits in the
South Park
season finale "#HappyHolograms" last night. The show's eighteenth season came to a close with a big Christmas TV special that "featured" Taylor Swift, Elvis, Tupac, Kurt Cobain, Iggy Azalea and more—some in the form of a hologram, naturally.
Staying true to what the show's all about, the finale had a lot of uncomfortable scenes like Swift singing a duet with Bill Cosby while drinking; Cobain singing Christmas songs with a shotgun in his hand (instead of a bullet, a Merry Christmas sign shot out); Elvis singing with Iggy's big booty/snowman; and Michael Jackson as... Peter Pan?

Connecting to your webcam.
You may be prompted by your browser for permission.