NEWS
Watch the Official 'Doctor Who' Christmas Special Trailer
With Nick Frost starring as Santa Claus!
Every year, the Doctor Who Christmas special proves to be (usually) the cheeriest, happiest, warmest, most family-friendly episode of every season—this year, however, seems a little different.
Even with none other than Nick Frost starring as Santa Claus himself, showrunner Steven Moffat looks to be intent on making this one seem like the bleakest yet. (And last year's special brought a sad, sad regeneration and a really, really long war. The year before brought us the Doctor saving a father from an early death. YAY.)
The Doctor heads to the North Pole to battle, yeah, an alien, and enlists Saint Nick for help. Clara is also shown erasing a chalkboard, only to reveal the words, "You are dying." Mmmm, CHRISTMASSY! Check it out below.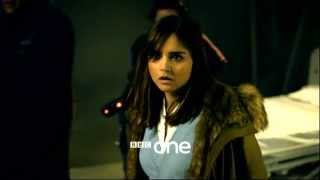 Connecting to your webcam.
You may be prompted by your browser for permission.