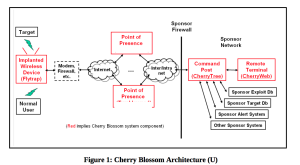 Missions can target connected users based on IPs, e-mail addresses, MAC addresses, chat user names, and VoIP numbers. Mission tasks can include copying all or only some of the traffic; copying e-mail addresses, chat user names, and VoIP numbers; invoking a feature known as "Windex," which redirects a user's browser that attempts to perform a drive-by malware attack; establishing a virtual private network connection that gives access to the local area network; and the proxying of all network connections.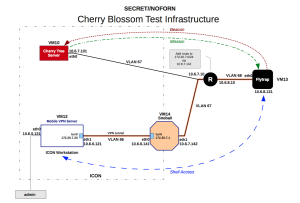 All the communications between the FlyTrap and the CIA-controlled CherryTree, with the exception of copied network data, is encrypted and cryptographically authenticated. For extra stealth, the encrypted data masquerades as a browser cookie in an HTTP GET request for an image file. The CherryTree server then responds to the request with a corresponding binary image file.
A decade of hacking routers
In many respects, CherryBlossom isn't much different from
DNSChanger
and other types of
router malware
that have infected hundreds of thousands of devices over the past few years. What sets the CIA implant apart the most is its full suite of features, including its user interface, command-server support, and a long list of mission tasks. Also significant: the documents date back to 2007, when router hacking was less developed than it is now.
CherryBlossom is the latest release in WikiLeaks Vault7 series, which the site purports was made possible when the "CIA lost control of the majority of its hacking arsenal." CIA officials have declined to confirm or deny the authenticity of the documents, but based on the number of pages and unique details exposed in the series, there is broad consensus among researchers that the documents are actual CIA materials.
Like the other Vault7 releases, Thursday's installment doesn't include the source code or binaries that would allow other hacker groups to appropriate the CIA's router-hijacking capabilities. That makes the leaks significantly less damaging than those by the Shadow Brokers, the name used by a still-unknown group that has been published advanced hacking tools developed by and later stolen from the National Security Agency. April's
release of an NSA-developed tool codenamed EternalBlue
resulted in the
WCry outbreak
that infected an
estimated 727,000 computers in 90 countries
.
A general defense more technically inclined users can take against router-based malware that monitors and tampers with Internet traffic is to put the router in question into passive mode and connect it to network hub and a trusted router. This allows the person to see all traffic going into and out of the network.